Matthew McConaughey 'Broke A Sweat' At A BTS Concert With His Family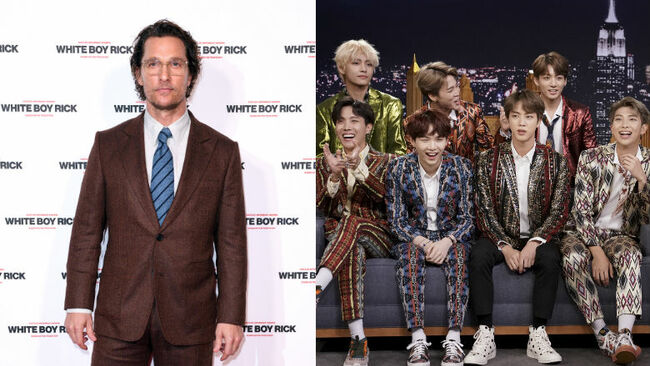 Matthew McConaughey is very much into the interests of his children, so much so that he took his 10-year-old son, Levi, to see BTS in concert and the Hollywood titan had the time of his life.
As per the actor's new interview on The Ellen DeGeneres Show, which was in promotion for his new thriller, Serenity, which co-stars Anne Hathaway, McConaughey shared details about the sweet family outing. Mid-interview, the actor revealed that he and his wife, Camila Alves, "had a blast" taking their Levi, to a BTS concert in Dallas, Texas last September to celebrate the little one's birthday. "[BTS is] South Korean, and my son's walking around the house months before he wants to go to this concert and he knows all the songs," he told the host. "He was rapping Korean."
McConaughey really wanted his family to experience the magic of the K-pop band up close, so he even took the gang all the way down to the pit area of the venue. "We had a blast. We got out of our seats. We got right down in the pit and broke a sweat dancing," he explained.
Levi is one of McConaughey's three children with Alves besides their other son, Livingston, and their daughter, Vida. "They're different kids of handfuls," the actor told DeGeneres. "[Livingston]'s a literal handful, meaning he's the comedian as well as he's the bruiser. He sometimes doesn't like to use his words enough to get his point across."