Ozzy Osbourne Fulfills Terminally Ill Ex-Drummer's Dying Wish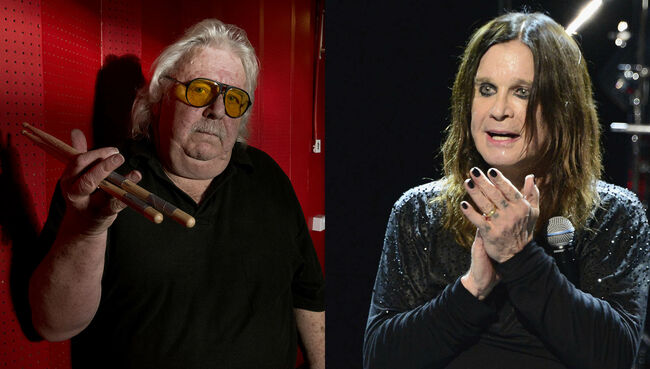 Ozzy Osbourne recently sent two platinum records to former drummer Lee Kerslake, who asked the front man to grant him some credit before he dies of cancer.
Kerslake was part of the first edition of Ozzy's solo band, alongside guitarist Randy Rhoads and bassist Bob Daisley, and played drums on the Rock and Roll Hall of Famer's iconic first two solo albums, Blizzard of Ozz and Diary of a Madman.
Kerslake revealed his terminal diagnosis in December and said he sent a message to Ozzy and Sharon Osbourne that his bucket list wish was to receive the two platinum discs in recognition of his part in music history.
Ozzy recently shared a photo of the Kerslake posing proudly with the two records.
"I'm so glad that Lee Kerslake is enjoying his Blizzard and Diary platinum albums," Ozzy said in a caption accompanying the photo. "I hope you feel better. Love, Ozzy."
Kerslake and Daisley were not credited in the liner notes for Diary of a Madman, despite having recorded all the drums and bass on the album.
The two have both sued the Osbournes several times over the years over album credits and publishing royalties, winning one lawsuit together in 1986. But Kerslake sued again in 2002 and lost. He says the litigation the second time around bankrupted him. Soon thereafter he began suffering health problems, he says.
"I never managed to get back up, but a platinum certification on my wall for these albums would be fantastic and it would say I helped create those albums," he told The Metal Voice.
Kerslake can't be certain how much time he has left, but he's keeping busy while he's still able. He is working on an autobiographical documentary to accompany a new album called Eleventeen, which he hopes will come out this year.
Photo: Getty Images