Dashcam Footage Shows Uber Passenger Grab For Driver's Steering Wheel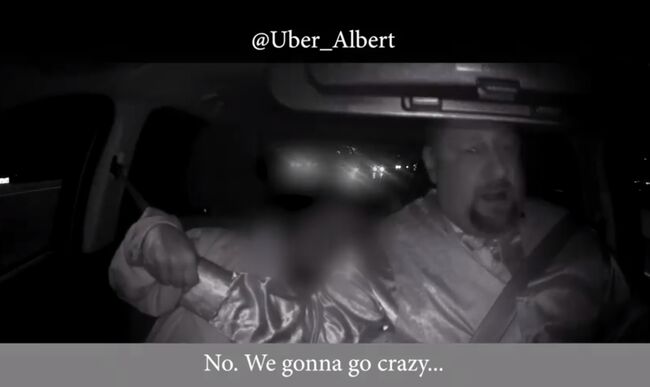 An Uber driver in Sacramento, California says he's lucky to be alive after a passenger tried grabbing the steering wheel to his vehicle and yank it across three lanes of traffic across a busy highway.
"Just when you think you've seen everything as an Uber driver something else happens that just blows your mind. I'm so happy to be alive. I could have died literally died on the freeway when this a****** grab my steering wheel," driver Dax Castro said in a post on Facebook.
The wild Uber ride was captured by Castro on his dashcam, an accessory he installed after a passenger pulled a gun on him and threatened to kill him last year.
The incident began after Castro picked up the inebriated man from a bar in Citrus Heights last Saturday night. He says the passenger who was sitting in the front seat, began yelling nonsense and becoming aggressive while he was driving.
"You gotta let go of my hand bro," Castro can be heard saying in the video posted to Facebook. "...I don't think so."
"Where we at?" the passenger yells.
Castro reminds him that they're heading downtown when the passenger lunges for the Uber driver's steering wheel, and a struggle ensues. Footage shows the driver grab the man's arm, and try to hold him back, but the passenger is undeterred, and keeps trying to grab at the wheel.
Passenger: "We're gonna go."
Castro: "You gotta let go, man."
Passenger: "No. We gonna go crazy."
The pair continue struggling for the wheel, but Castro is able to retain control over the vehicle until he finally brings it to a stop.
Then, Castro says the man began whispering, "We're gonna die."
"We're not gonna die man," Castro replies, "but you gotta let go."
Castro told CBS2 that he was using all his strength while struggling to hold the passenger back. Their vehicle veered across at least three lanes of traffic on Highway 99 near Highway 50 before he pulled over to call police.
California Highway Patrol officers identified the passenger as Tswj Vang, 32. They arrested Vang at a nearby donut shop after he was found to have a blood alcohol level of 0.19.
In a statement, Uber said that Vang has been banned from using the app and that the behavior seen in the video by him was "dangerous and unacceptable."
Vang is scheduled to be arranged in a Sacramento court on Feb. 19 on misdemeanor DUI charges.